SAHA Istanbul Defence & Aerospace Cluster
Association and Professional Society • Member since 2022
`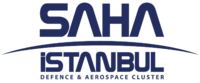 Mission is to develop the technological and sectoral competencies of its members and to create a strong ecosystem by supporting the cooperation among its members.
SAHA Istanbul, which still has a very rapid growth by recruiting members from all regions of Turkey, has become one of the largest clusters (second largest) of the European Aviation Clusters Union, of which Turkey is a member, with companies from various sectors and cities, public and foundation universities and universities.
In 2018 and 2021, it successfully held the SAHA EXPO Defence & Aerospace Exhibition, in 2019, he established SAHA Academy and started SAHA MBA training. Currently, the FIELD MBA continues its education with the content, tools and methods equivalent to the most prestigious programmes in the world.
In 2020, by establishing the National Aviation Industry Committee (MIHENK) under the World Civil Aviation Quality Group - IAQG / European Civil Aviation Quality Group-EAQG, Turkey has entered the European Civil Aviation Quality system and paved the way for TURKAK (Turkish Accreditation Body) accreditation of our domestic companies to issue AS 9100 certificates.
Sanayi Mah. Technopark Bulvarı, Technopark Istanbul, No: 1/9A, Upper Ground Floor D:104-105 Pendik
34906 Istanbul
Türkiye
+90 216 999 70 17-18