Published on March 4, 2013
2013 IPMC YP Workshop: call for nominations
64th IAC in Beijing, China - Friday 20 September 2013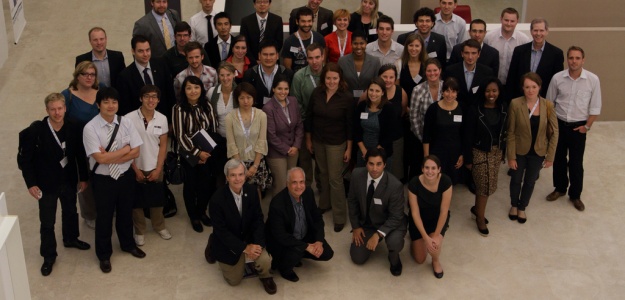 Call for Delegate Nominations
The deadline is extended to 10 July 2013
Goal: The International Project Management Committee (IPMC) Young Professionals Workshop seeks to gather input from young professionals in the international space community to gain the knowledge they need to better develop and empower the next generation workforce.
We want IAF member organisations to nominate delegates for this workshop and represent their views in this international forum.
Name and contact details for your nominations are to be sent by 28 June 2013 to the Workshop Organising Committee at yp_workshop@iafastro.org.
The delegates for this workshop are asked to be physically present at the 2013 International Astronautical Congress and fit the profile of a young professional. Young professionals are typically defined as being age 35 and under and having at least one to two years of experience on a project team and/or in the aerospace industry. A diversity of backgrounds (e.g., engineering, management, science, etc.) is encouraged in order to produce thoughtful and well-rounded observations and recommendations that will be presented to the IPMC.
The following topics for the workshop were generated by the Workshop Organising Committee and IPMC:
What mentorship and shadowing programmes exist in different organisations in the space sector?
What exchange programmes exist in different organisations (internal and external transfers) in the space sector?
What optional "on the side" projects led by Young Professionals exist in different organisations in the space sector which tap into YPs' innovation, creativity and enthusiasm whilst maintaining their motivation and developing project management experience?
What tools and project organization methodologies have been and can be implemented into the space sector from other industries and the YPs' experience (e.g. Software, Automotive)?
What methods exist for promoting knowledge exchange and networking between YPs at different organisations in the space sector?The five discussion topics for the 2013 workshop are to be assessed in two general ways. First an identification of the relevant programmes and issues for each topic via in-depth research and surveys carried out by the delegates before the workshop. The second part is for the delegates to assess how to implement and improve these programmes at their host organisations and then be able to collate final thoughts and lessons learned at the workshop itself using specific researched examples. Each discussion topic group will produce an extensive survey and report on lessons learned, carried out by the delegates themselves from the perspective of Young Professionals in the space sector, and complemented with the experience of the experts chosen by each discussion group. An example output would be for the group to highlight and help implement the knowledge transfer of a mentoring programme scheme from a Space Agency to an Industrial Prime Contractor.