Published on April 22, 2021
Discover the IAF Vice President for Global Membership Development, Dr. Mohammed Nasser Al Ahbabi
We are proud to present the IAF Vice presidents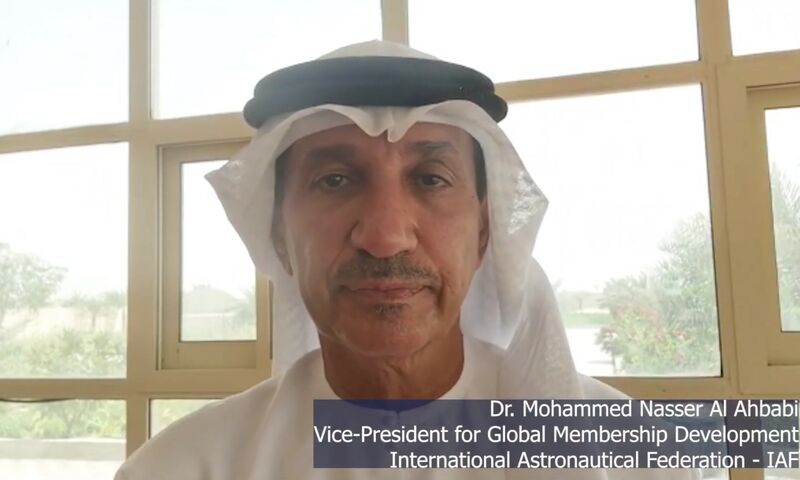 Dr. Mohammed Nasser Al Ahbabi is the former Director General of the United Arab Emirates (UAE) Space Agency. He obtained a Ph.D. in communications from the University of Southampton from the United Kingdom in 2005, and a master's degree for the same university in communications in 2001. He completed a degree in electronic engineering from the University of California in 1998, in addition to many specialized military and government courses. Dr. Ahbabi has tremendous experience in civil and military work and academia. He became a telecommunications officer for the UAE Armed Forces until he reached the rank of Major. During that period he also worked as a coordinator for Dubai Internet City until 2000 then as a telecommunications officer for Sharyan Al Doea Network and a project manager for Yahsat military division from 2005 to 2012. Dr Ahbabi has contributed and led numerous strategic projects in the ICT domain towards the benefit of the UAE government. He has also led a UAE Armed Forces Think Tank Project within the Centre of Excellence. His role included advising the military and government at a strategic level on emerging concepts and technologies in the area of smart defense, cyber warfare and space developments. He has led YAHSAT MilSatCom and other space projects. He has an active role in ITU-R, United Nations space working groups and various ICT professional associations. Dr Ahbabi is also a key speaker in a number of international conferences in the area of Smart Defense, mil-Space, Cybersecurity, and Smart governments. He is also a board member of YahSat Company and of the UAE ICT fund.
In the frame of his Vice-Presidency for Global Membership Development at the IAF, Dr. Ahbabi successfully conducted a substential growth of membership propelling the IAF to the rank of leading and most distinguished global space organization in the world.
With the aim of identifying creative ways to introduce and obtain new members from various different industries, Dr. Ahbabi initiated the New Communities Working Group which helps to find potential new members that may not necessarily be directly related to Space but should be included and benefit from working with the IAF and the networking opportunities IAF provides.
Additionnally, Dr. Ahbabi greatly contributed to the expansion of membership in the Middle-East by attracting a significant number of organizations from that region.