Published on November 23, 2021
IAC 2022 Call for Session Proposals and Abstracts
Engage in the 73rd International Astronautical Congress to be held in Paris, France 18 – 22 September 2022!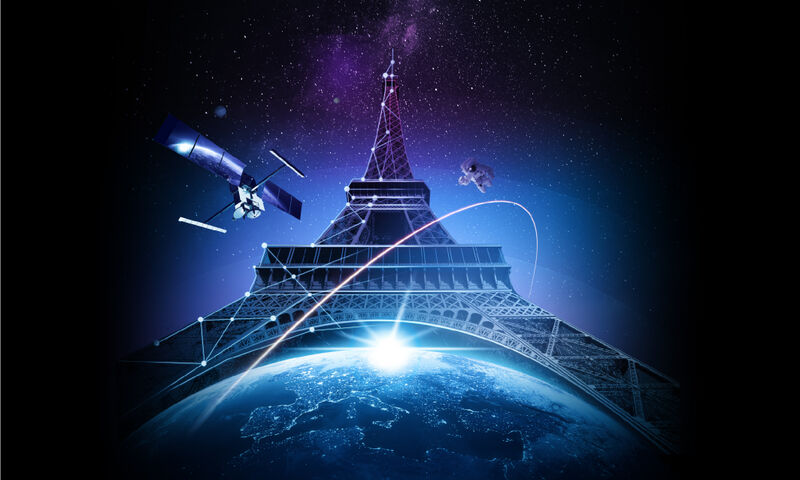 The IAF's International Astronautical Congress embraces an inclusive approach that is community-driven, engaged, and accessible for everyone. We support the diversity that our congress participants bring by providing a variety of ways for people to engage. You are all invited to contribute to the programme of the IAC 2022 which will be held in Paris from 18 to 22 September 2022 under the theme "Space for @ll"!
The guide "How to Engage at IAC" include timetables and application processes, listed by proposal type. This document provides stakeholders and potential applicants with appropriate and high-quality information about the programme, the options and conditions for the development of their proposal ideas into full-fledged proposals and the assessment and selection procedures for proposals. For general information on who can apply, how to apply and FAQs, please see the respective sections.
Deadline for submitting proposals for Plenaries, Highlight Lectures, and Special Sessions is Friday 11 February 2022 at 23:59 CET.
The IAF Global Networking Forum (IAF GNF) call will be opened separately on 11 March 2022 and will close on 27 May 2022. Please note that the GNF will not accept as submissions any rejected Special Sessions, Plenary or Highlight lectures formats. Proposal must be original and submitted to fit the Global Networking Forum format.
To avoid the allocation of several numbers for the same proposal, each proposal can be submitted only once. If you have any doubts or need confirmation about the most appropriate format type for your proposal (Plenary, HLL, IAF GNF or Special Session), please contact us at support@iafastro.org.
Bear in mind that it is possible that you may be requested to modify one or several aspects of your proposal in order to fit it into the framework of IAC's Programme.
Proposal Formats


Plenaries and Highlight Lectures
Do you want to present a topic of general scientific or technological interest? Are you a scientific or a technical expert with a solid knowledge of the latest space-related topics? Submit your proposal for a Plenary or Highlight Lecture, and you can be selected to present in front of a large audience during the five days of the IAC. The Plenary and Highlight Lecture events are selected by the IPC Steering Group in a well-defined competitive selection process. You can find all necessary information on the selection criteria and the submission form on the IAF Website at the following link: https://www.iafastro.org/events/iac/iac-2022/plenary-programme.html Plenaries and Highlight Lectures proposals must be submitted to the IAF Secretariat at iacplenary@iafastro.org.

IAF Global Networking Forum Sessions (IAF GNF)
The IAF GNF offers a unique opportunity to all IAF Members and future Members to participate actively and showcase their latest developments in front of a widely engaged audience. The aim of the IAF GNF is to provide Congress participants with a varied programme throughout the week, touching upon the most recent and hot topics in space, and to provide a one-of-a kind visibility experience for the organizers. IAF GNF sessions will be selected and placed thematically within the overall programme, and will be divided in three timeslots: 30 minutes, 45 minutes and 60 minutes. Additionally, do not forget that you can actively support the GNF by sponsoring your session!
Should you have any questions concerning the IAF GNF Programme, please contact the IAF Secretariat at gnf@iafastro.org.
Special Sessions (SpS)
The goal of these special sessions is to provide a forum for focused discussions on new technical and multidisciplinary topics and provide opportunities for audience engagement. Special Session will be mainly evaluated on the following criteria:
Special Sessions must be participatory and shall propose an interactive format such as fishbowls, campfires, design sprints, workshops etc. Opportunities for audience participation in the discussion must be demonstrated. Standard formats such as panels will not be considered.
Special Sessions must be multidisciplinary and demonstrate transversal aspects, as well as cutting-edge topics. Proposals must be submitted into one of the 33 symposia.
Special Session proposals must be submitted online at https://iafastro.directory/iac/account/login/
Should you have any questions concerning the Special Sessions, please contact the IAF Secretariat at sps@iafastro.org.


Call for Abstracts
The Call for Abstracts is a precursor to a subsequent submission of a final paper, which may be presented at the 73rd IAC. Authors are invited to submit an abstract regarding an original, unpublished paper that has not been submitted in any other forum. Papers can be submitted for either formal oral presentation or interactive presentation. The list with the Technical Sessions can be found here:
https://iafastro.directory/iac/browse/IAC-22/
All selected papers will be treated as equally important in the presentation sessions and Congress Proceedings, differing only in the format of the presentation sessions (in other words, Oral Presentation papers will NOT be considered more important than Interactive Presentation papers). IAC 2022 Call for Abstracts features a new symposium (E10) dedicated to NEO and Planetary Defense. Abstracts must be submitted online at https://iafastro.directory/iac/account/login/ by 28 February 23:59 CET and shall fit into one of the following IAC categories:
Science and Exploration – Systems sustaining missions, including life, microgravity, space exploration, space debris and Search for Extra-Terrestrial Intelligence (SETI)
Applications and Operations – On-going and future operational applications, including earth observation, communication, navigation, human space endeavors and small satellites
Technology – Common technologies to space systems including astrodynamics, structures, power and propulsion
Infrastructure – Systems sustaining space missions including space system transportation, future systems and safety
Space and Society – Interaction of space with society including education, policy and economics, history and law, space security and sustainability, space arts, planetary defense and NEO
Should you have any questions concerning the Call for Abstract, please contact the IAF Secretariat at support@iafastro.org.