Published on April 9, 2021
IAF Distinguished Service Award 2021
Congratulations to the IAF Distinguished Service Award 2021 Recipients!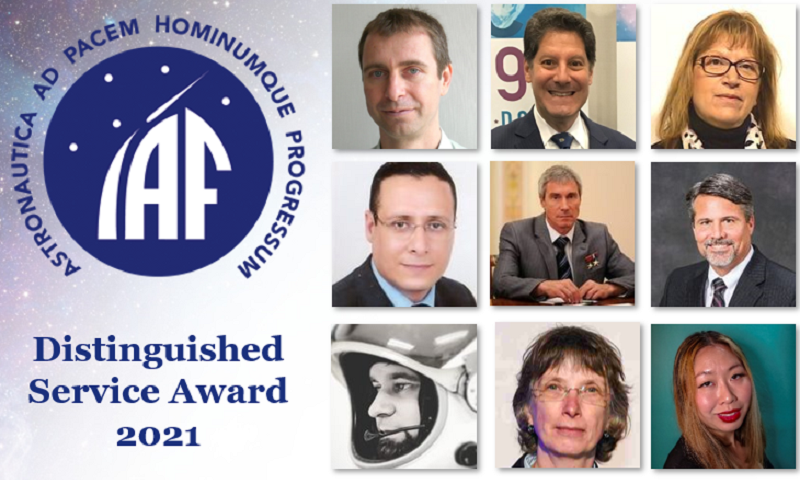 We are extremely pleased to present to you this year's IAF Distinguished Service Award Recipients!
The IAF Distinguished Service Award was established to acknowledge active IAF volunteers for their immense contributions to the progress of astronautics and the Federation. Our sincere appreciation goes to our winners for their dedicated work and continuous support to IAF Committees, IAF member organizations, the IAF Bureau and the IAF Secretariat.
Our sincere congratulations go to:
"Recognising his outstanding contribution and dedicated hard work for the IAF and its Congress technical sessions relating to small satellites for over 20 years"
"For his outstanding engagement with the Federation as Chair of the Entrepreneurship & Investment Committee and Vice Chair of the Space Economy Committee and his numerous contributions to the development of the next generation of space leaders"
"With good will and expertise, good things happen"
"Mr El Hadani has been an IAF focal point member for Morocco since 1999 and currently serves on two IAF Committees (ACDCEC and CLIODN) that have a focus on developing countries and has been actively promoting and advancing the work of the IAF by co-organising and hosting the Global Conference on Space for Emerging Countries (GLEC2019) and being a member of the IAF 2018 and 2019 Nominations Committee."
"For more than a decade he has contributed to the IAF's mission in various committees and leadership positions and dedicated a significant amount of time in service of the next generation of space professionals."
"Mr. Krikalev has valuable practical contributions not only to the activities of the International Astronautical Federation, but to international cooperation in space field in general, both on Earth and in Space!"
"The IAF Distinguished Service Award is presented to Mark Mulqueen for his tireless work and service as Vice Chairman of the Industry Relations Committee supporting the Federation and its member organizations."
"For her outstanding services to the Federation as an active IPC member in the area of space life sciences and astrobiology since many years"
"For more than a decade she has shown dedication in her work for the IAF in multiple committees, she has held leadership positions in the IAF and at SGAC, and in support of long term sustainability of the industry she has put herself in the service of the next generation of space professionals."