Published on March 30, 2023
IAF Distinguished Service Award 2023
Congratulations to the IAF Distinguished Service Award 2023 Recipients!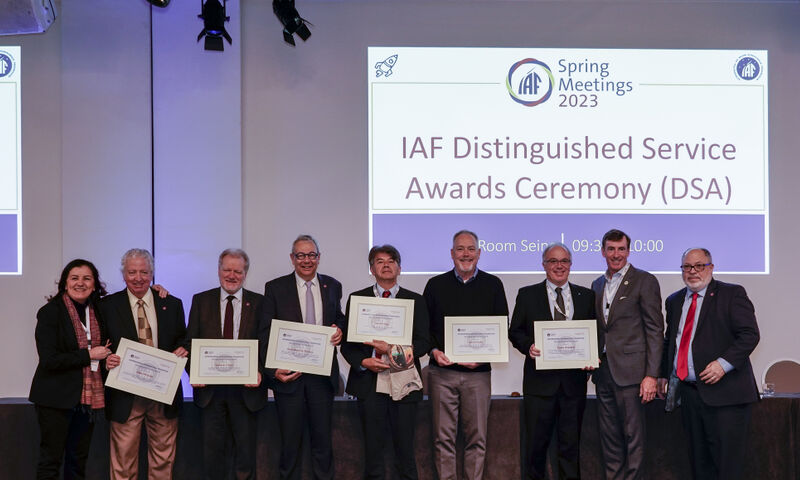 At the occasion of the IAF Spring Meetings 2023 We are extremely pleased to present to you this year's IAF Distinguished Service Award Recipients!
The IAF Distinguished Service Award was established to acknowledge active IAF volunteers for their immense contributions to the progress of astronautics and the Federation. Our sincere appreciation goes to our winners for their dedicated work and continuous support to IAF Committees, IAF member organizations, the IAF Bureau and the IAF Secretariat.
Our sincere congratulations go to:
"For exceptional service to the International Astronautical Federation over a more than two-decade period as a delegate, author, and leader in connection with Earth Observation, Global Earth Observing System of Systems (GEOSS), Space Astronomy, Enterprise Risk Management and Business Innovation"
"For his long-time advocacy and support for the next generation and for his significant contributions in leading and inspiring global cross-generational cooperation and exploration of critical topics involving, but not limited to, space missions and architecture, technology development, and operations"
"Space museums and science centres are part of the space ecosystem. They preserve important heritage and share space achievements and discoveries with general public. But they also make out of every visitor a space supporter. Space museums and science centres are a common house for space players, a place to meet and engage with the public"
"For Continuous and Energetic Service to the International Astronautical Federation by Dr. Bernard Foing for Many Decades"
"For his outstanding contribution and dedicated service as long-time member and tenure as Chairperson of the Human Space Flight committee, member of the Industry Relations Committee as well as numerous IAF international planning committees, technical committees and symposia for over 20 years"
"For 20 years of excellent service as a member and Chair of the Materials and Structures Committee of the IAF, for the scientific contribution provided in the field of dynamics and control of space systems and structures and for his unwavering mentoring and passionate support provided to the students, scientists, and young professionals of space disciplines within the IAF and international aerospace organizations"
"The IAF Distinguished Service Award is presented to Dr. Sergey Shaevich for his outstanding contribution and dedicated service as long-time member (since 1998) and tenure as Co-Chairperson of the Session B3.2 "Commercial Human Spaceflight Programmes" in the Human Space Flight committee, member of numerous IAF international planning committees, technical committees and symposium for over 25 years"
"For his exceptional contributions to the International Astronautical Federation as a distinguished academician, researcher, mentor, and industry leader, and for his active IAF engagement that advances international cooperation and recognizes high achievement throughout the global space community."
"Dr. Manfred Wittig is receiving the Distinguished Service Award for outstanding contributions to satellite communications and decade-long dedication to the IAF, especially as chair of the Space Communications and Navigation committee"