Published on September 28, 2022
IAF PRESIDENT, CLAY MOWRY'S AGENDA 2022 - 2025
SUSTAINABILITY, INVESTMENT, & SECURITY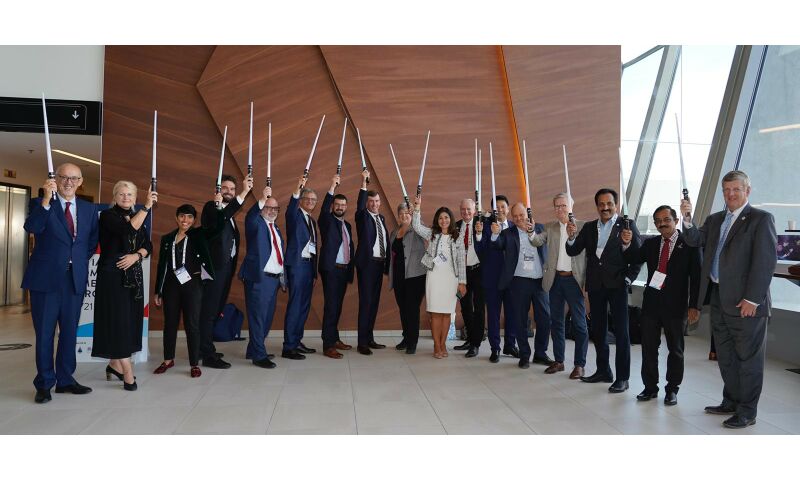 For over 70 years the International Astronautical Federation (IAF) has provided a valued forum for space agency, industry, non-profit, academic, and student leaders to confront and debate the challenges facing our collective future in the reaches far above planet Earth. The "Premier Congrès International D'Astronautique" at the Sorbonne's Grand Amphitheater in Paris on 30 September 1950 gave birth to the IAF a year later with the signing of our Constitution by 10 space societies. Since then, we have faithfully gathered each year to promote cooperation, share scientific knowledge, and meet the urgent concerns facing spacefaring nations.
Let me take a moment to applaud the diligent work of my predecessors in advancing the mission of our organization: Dr. Jean-Yves Le Gall and Dr. Pascale Ehrenfreund, whom I have had the pleasure of working with on the IAF's governing Bureau. These two great leaders shepherded our Federation through times of both rapid growth and in dire straits resulting from the global pandemic. Following in their footsteps and building on their exceptional efforts, I am excited to serve the Federation's member organizations for the next three years.
Dr. Le Gall's work to create the "3G" diversity agenda addressing geography, generation, and gender equities has help establish the International Astronautical Congress demographically as the youngest and most diverse space conference in the world. And I am humbled to grasp the Federation's reigns following the first woman to lead the organization through a challenging global health crisis that forced our flagship event to shift quickly to virtual mode. Her "Global Innovation Agenda" has brought emerging countries to our space family through conferences, expanded work with partner organizations, and created innovative systems for sharing information among members. These two extraordinary IAF Presidents' devotion, persistence, and steady leadership has seen the IAF double in size and cemented the organization's place as host of the world's premiere space event.
During the 72nd International Astronautical Congress in Dubai, it was impossible to miss the ubiquitous themes of sustainability, investment, and security that permeated plenary and forum discussions on almost every stage. The recent Global Conference on Space for Emerging Countries (GLEC) in Quito, Ecuador in May echoed the themes showcasing the benefits of space applications to life on Earth, the creation of local industries through investment, and needed policy initiatives to allow both today's spacefaring and tomorrow's space developing nations to thrive.
Once the purview of superpowers, space is now a domain where multiple actors seek to field new technologies that will investigate, navigate, communicate, and innovate. These actors are enabled by the declining cost of access to space with reusable launch systems and ever more capable, affordable satellites. Affordable access is opening new frontiers to researchers, both from government and industry, to explore the very real possibilities of work aboard a future defined by multiple orbital destinations.
The Sustainability, Investment, and Security "SIS" imperatives will live at the core of the Federation's agenda for the next three years. Working with my Vice Presidents on the IAF Bureau, Special Advisors and IAF Committees, we will endeavor to incorporate SIS into the fabric of our Congresses and conferences as we build on the IAF's unmatched technical programme through plenary sessions, Global Networking Forums, highlight lectures, and thematic events.
Sustainability from the perspective of space works in two ways. First, we want to foster a future where space- based applications and services help improve life for all on planet Earth. Capabilities in space allow us to better understand our climate, adapt to changing environmental realities, and discover new pathways to living in balance with our home. As we consider sustainability on Earth, the IAF should seek to influence conversations around the sustainability of the space environment. Securing orbits, spacecraft, frequencies, and physical resources is critical to the future viability of space exploration. Norms and improved understanding of safe practices in space will allow actors to promulgate new applications to help study, track, understand, and protect planet Earth for future generations.
As we seek a more sustainable space environment, we must secure continued investment to foster its expansion. According to a recent report by BryceTech, the startup space sector saw $9 billion in venture capital investment in 2021, an 82% increase year-over-year and part of the record $15.4 billion in financing that is fueling or sector's rapid growth. Despite potential market headwinds, we expect private and government financing in space to ultimately grow and play an important role in the dynamic evolution of our sector. The coming three years will see a shift towards the commercial development of low Earth orbit and major push to field systems in lunar orbits and on the surface of the Moon. We must be prepared to tackle the challenges of growing investment in the space sector head-on.
Security refers to the freedom to operate safely in the space domain. Without it, investors and nation states can hardly be expected to pour the continued resources and attention required to secure humanity's future beyond Earth. Collectively, we seek a secure space environment where scientists, innovators, and nations actively engage in commerce and exploration to create new applications here on Earth. Norms and common practices for safe operations that promote sustainability and encourage investment are critical as space-based assets serve 8 billion people and 15 billion mobile devices. From small-hold farmers to emergency responders, space-enabled applications are central to the continuity of the modern world. We must involve all space actors, from all global communities, in the security dialogue as we encourage ascendant nations to join in the use of assets and services in orbit.
In support of this three-pronged agenda of Sustainability, Investment, and Security, our Federation affirms its desire to build toward a future where we empower a more diverse community of space leaders. In pursuit of these ambitions, and in service to this community, I am honoured to serve as your IAF President for the next three years. With my able team of Vice Presidents, the IAF Secretariat, Committee Chairs, and tireless global volunteers who pledge their time and energy to give back to the space community, we will build a brighter future and ensure humanities' upward march to the stars.
Thank you,