Published on June 22, 2023
IAF hiring a Promotion and Communication Manager
The IAF is currently hiring an IAF Promotion and Communication Manager!
Apply before 16 July 2023 by sending your CV and cover letter to jobs@iafastro.org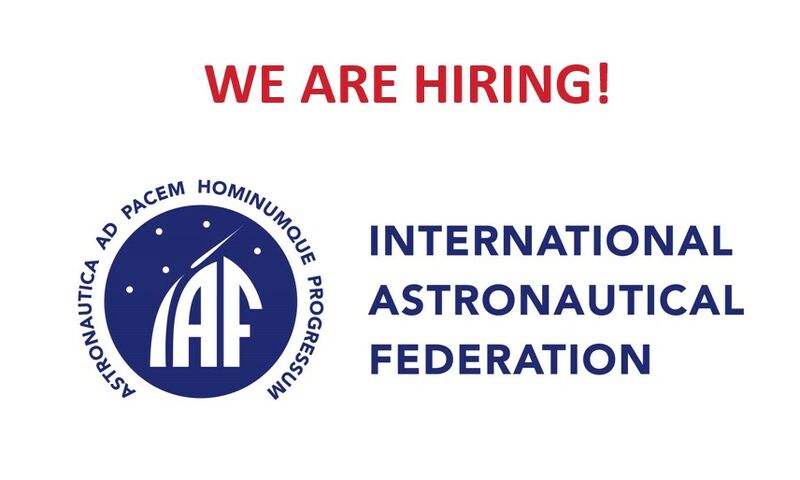 THE INTERNATIONAL ASTRONAUTICAL FEDERATION
Founded in 1951, the International Astronautical Federation is the world's leading space advocacy body with 468 members in 75 countries, including all leading space agencies, companies, research institutions, universities, societies, associations, institutes and museums worldwide.
Following its motto "Connecting @ll Space People" and its theme "A space-faring world cooperating for the benefit of humanity", the Federation advances knowledge about space, supporting the development and application of space assets by promoting global cooperation.
As organizer of the annual International Astronautical Congress (IAC) – the world's premier global space event – and other thematic events, the IAF actively encourages the development of astronautics for peaceful purposes and supports the dissemination of scientific and technical information related to space.
The IAF Secretariat is based in Paris, France, and is responsible for the coordination of the IAF activities. It is the management body of the organisation, supporting the IAF Members, the IAF experts and volunteers.
JOB DESCRIPTION
Under the supervision of the IAF Executive Director, the IAF Promotion and Communication Manager shall be responsible for the implementation of IAF promotion and communication activities, including external communication and social media, IAF website and App, speech writing and corporate presentations. They shall contribute to the IAF Secretariat's effort to organise and implement events, including the International Astronautical Congresses (IAC) and IAF Global Conferences.
SPECIFIC DUTIES INCLUDE:
Plan and execute IAF external communications (mass mailings, press releases, IAF newsletter, IAF website and App, social media);
Manage the IAF website and App (content, updates and interface with website developers);
Contribute to the IAF Promotion and Communication Strategy;
Develop relations with media representatives, expand the IAF's media network and develop / maintain a media contact data base;
Develop and manage media agreements;
Produce content for website and publications, official statements, speeches, etc;
Produce, proof-read and correct IAF external communications;
Participate in the preparation and implementation of the International Astronautical Congress and other IAF events;
Other duties as requested by the Executive Director.
CANDIDATE PROFILE
Higher education (Bachelor level or higher);
Work experience in promotion/communication;
Proven experience with website editing, social media, traditional media;
Knowledge of and working experience within the space community is an asset.
SKILLS NEEDED
Excellent writing skills;
Strong editorial skills;
Excellent IT proficiency (MS Office: Word, Excel, PowerPoint, Access, Outlook);
Language: English (excellent oral and written skills / native);
Well organised with excellent planning skills / Strong organisational and coordination skills;
Result-oriented;
Team work competency / Proven ability to work in team;
Excellent communication and inter-personal skills;
Highly motivated;
High sense of initiative;
Ability to work under pressure, multi-task and manage multiple projects and processes while adhering to strict deadlines;
Commitment to achieve results in a timely way and to high standards;
Capacity and willingness to learn and share knowledge;
Ability to analyse problems and propose solutions;
Open to work in an international environment;
Enthusiasm and interest for space activities is an asset;
WHAT WE OFFER
1-year CDD (possibility to be followed by CDI);
Challenging job with exposure to the international space community at all levels;
An international environment with high levels of personal responsibility;
Occasional travels abroad;
Attractive salary.
HOW TO APPLY
Applicants should send their resume and cover/motivation letter to jobs@iafastro.org
Closing Date for Applications: 16 July 2023