Published on January 18, 2021
The 16th Ilan Ramon International Space Conference - Pivoting to Space: New opportunities for Industries and Governments
Register now to attend the special event jointly organized by the International Astronautical Federation (IAF) and Israel Space Agency (ISA)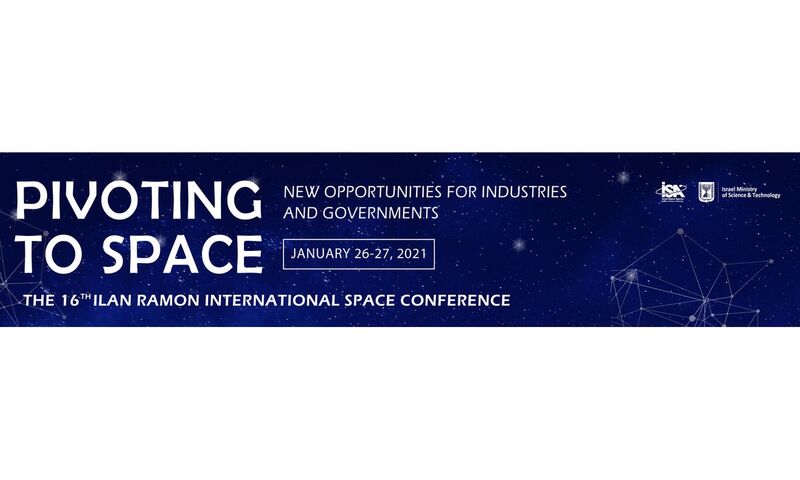 The Israeli Space Agency will be hosting the 16th Ilan Ramon International Space Conference as part of the 2021 Israel Space Week events on Jan 26-27, 2021.
With confirmed attendance of heads of space agencies, leading space industries, space entrepreneurs, investors and space professionals, the Ilan Ramon conference has always been a vibrant meeting point in the great city of Tel Aviv. This year, due to the COVID-19 pandemic and the need to maintain social distancing, the conference will be held in a digital format.
The 2021 Conference's main theme this year will be 'Pivoting to Space: New opportunities for Industries and Governments'.
The conference will include key speakers and panels and will offer, in addition, a virtual exhibition that will allow to meet with leading and promising companies in the space industry and a possibility to schedule meetings with the conference's participants in B2B meetings.
On the first day of the event, the 26th January, the IAF is organizing a Special event, a joint panel with the Israel Space Agency (ISA). There will be a keynote by Pascale Ehrenfreund, IAF President and a very interesting session on 'Advancing national space ecosystem: Perspectives of small and emerging spacefaring nations' with Deganit Paikowsky, IAF Vice President for Diversity Initiatives and Science & Academic Relations, Valanathan Munsami, Chief Executive Officer of the South African National Space Agency (SANSA), Jonathan Hung, Executive Chairman of the Singapore Space and Technology Limited, Michal Brichta, Space Practice Leader of the Slovak Investment and Trade Development Agency, Simonetta Di Pippo, Director of the UNOOSA, Anthony Murfett, Acting Head of the Australian Space Agency. The panel will focus on ways for both small and emerging spacefaring nations to advance their ecosystems in space. It intends to provide an opportunity for emerging new players to voice their activities, share their experience, and interact with a wide audience of the space community.