SOCIAL AND CULTURAL PROGRAMME


The Global Space Exploration Conference - GLEX 2021 offers a rich social and cultural programme to enjoy to the fullest the beautiful city of St. Petersburg and its impressive cultural life!
1) Each tour includes transfers from hotels to the departure point for the tour and from the final point of the tour to the hotels;
2) The end time of excursions is the time taken into account without a transfer to the hotel;
3) Accompanying persons need to sign up for excursions in blocks (each group will consist of 50 people): they can choose a morning block of excursions on one day, and an evening one on another. For example, they can choose the morning program on 14 June and the evening program on 16 June.
Social and Cultural activities schedule for delegates and accompanying persons within the Global Space Exploration Conference - GLEX 2021: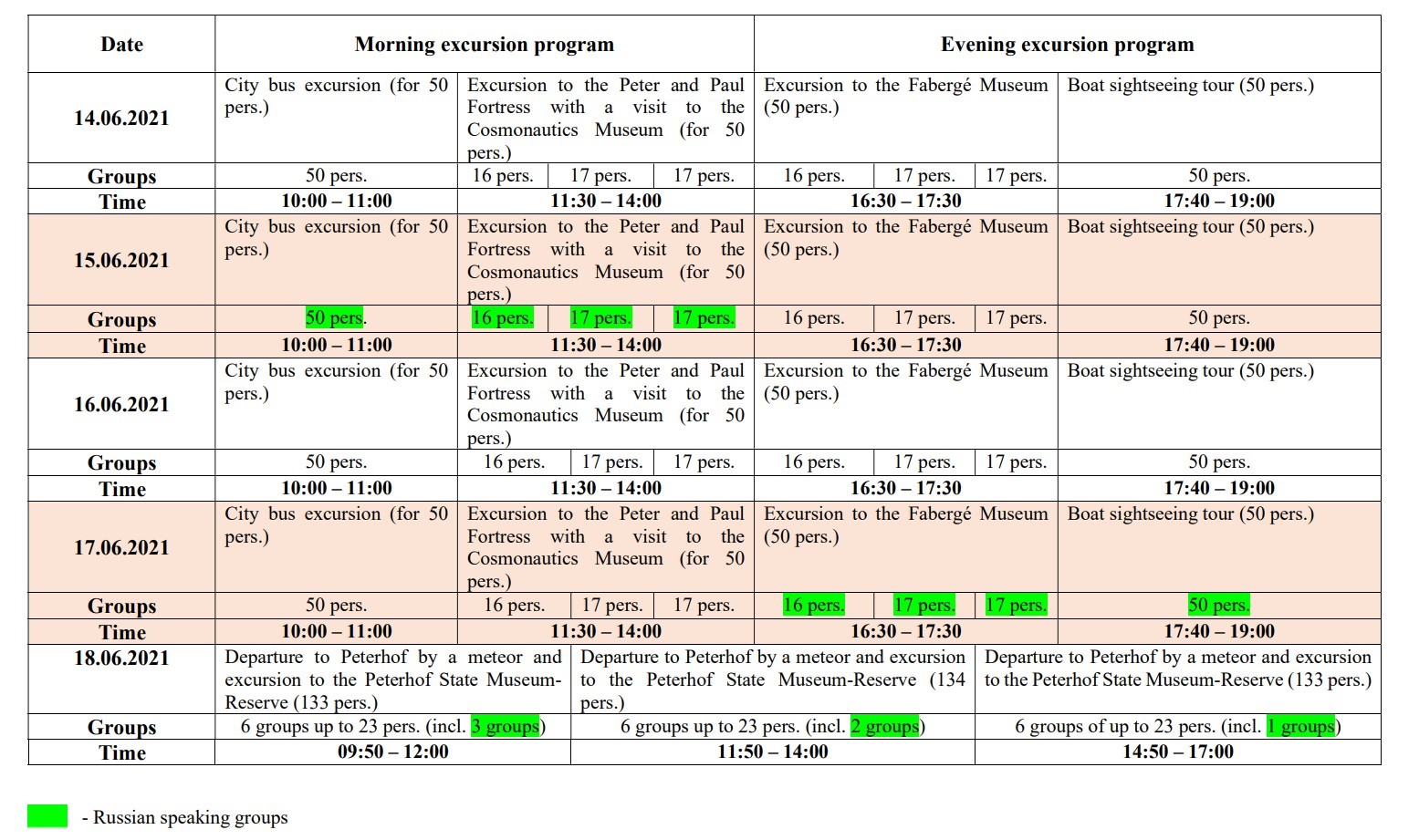 Check here all the excursions offered for GLEX 2021 delegates and accompanying persons
For 20 years, Saint Petersburg City Tourist Information Bureau has been operating in the city, its main area of expertise being the creation of an information environment for guests and residents of the city. In total, there are 8 Bureau information points in the city, located in close proximity to the city's main attractions and transport hubs.
Besides, the Bureau has two mobile offices that we use at city festivals and on trips abroad. Visitors of pavilions and offices can get useful and up-to-date information about Saint Petersburg and its sights, transport and events free of charge.
Offices and pavilions:
Sadovaya street, 14/52 (Mon - Sat 10:00 - 19:00)
Sadovaya street, 37 (Mon - Sat 10:00 - 19:00)
Millionnaya street, 25 (Mon-Thu 9:00 – 18:00; Fri 9:00 – 17:00)
Pavilion on Palace Square (daily; 10:00 - 19:00) Palace Square, 1a
Pavilion at the Peter and Paul Fortress (daily; 10:00 - 19:00) Aleksandrovsky park, 5, building 1
Pavilion on Vosstaniya Square (daily; 10:00 - 19:00) Ligovsky prospect, 1, building 1
The Marine Facade Seaport (9:00 – 18:00; May-September) Rastrelli square (Mon-Fri; May-September)
Contact Center 10 am - 19 pm (Moscow time) : +7 495 662 43 52
GLEX 2021 Contact Center 10 am - 19 pm (Moscow time) : +7 495 662 43 52