IAF Launchpad Mentorship Programme
Helping launch the careers of aerospace professionals around the world through one-to one mentorship to achieve their career and professional development goals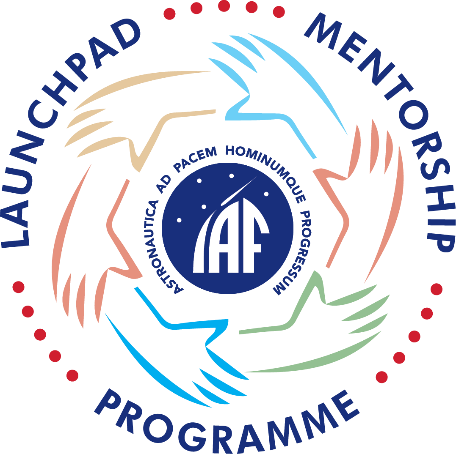 Mentee Applications Open December 1, 2022 and Close January 6, 2023
About
The IAF Launchpad Mentorship Programme is focused on professional mentorship and career development of early- to mid-career professionals and recent graduates entering the space industry. In this programme, you will be paired with experience, senior professionals in the space industry. The IAF Launchpad Mentorship Programme aims to facilitate career development and leadership capabilities of the Mentee and provide a platform for enhanced communication between the generations represented within the IAF.
The Mentees selected for the IAF Launchpad Mentorship Programme will have access to some of the most notable leaders within the industry, gaining key insights and advice to help their careers move forward. They will also have the ability to take part in professional development designed specifically for this programme.
How Will Mentoring Benefit Me?
Provides a 'personalised' opportunity to address your individual professional development goals
Provides an opportunity to develop new skills and expertise
Provides access to independent and objective perspectives
Enhances networking opportunities
Drives you to set goals and to strive towards them
Helps to clarify and enhance your future direction in the space sector
Can provide you with support during times of change and transition
2022-2023 Mentors
Past Launchpad Mentorship Programme Winners
Application Process for Mentees
Mentees for the 2023 IAF Launchpad Mentorship Programme are selected through a competitive and open application process. Candidates from any country are welcome to apply. Eligible candidates are within 10 years of completing their terminal degree (NOT in school) or a job/career change. Although there are no age restrictions to the IAF Launchpad Mentorship Programme, Mentee applications between 25-40 years of age will be prioritized. Applications will open on December 1, 2022. In the application, you will need to prepare to provide your resume and at least one letter of recommendation from an IAF member organisation.
Successfully selected Mentees will be paired for one-on-one mentorship based on multiple factors within the application process.
The Selection Committee will be reviewing your:
Career goals;
Reasons for wanting to be part of this programme;
Goals you hope to achieve in this programme;
Educational and career background; AND
Expectations from your Mentor.
Eligibility to participate as a Mentee
To be a Mentee in the 2023 IAF Launchpad Mentorship Programme, you must fulfill the following criteria:
Mentees must be within 10 years of their terminal degree or a major job/career change. You MAY NOT still be in school. If you are a student and looking for mentorship, IAF Partner Organisations, including The Space Generation Advisory Council, have targeted programmes for this audience.
Demonstrate active involvement with an IAF committee or programme, SGAC, AIAA, IAA, IISL, ISU or other professional committees and organisations
Mentees must agree to meet with their Mentor for a minimum of 6 hours, at a mutually agreed upon time, throughout the 6 month duration of the programme
Mentees must participate in professional development activities throughout the course of the programme
Application Requirements
To apply for this programme, you will need to complete an application form (below) which will help in identifying the best possible Mentor to suit your goals and objectives.
Mentee application requirements include the following:
Mentee Application Form
Applicant's Resume (MAX 2 pages)
A minimum of one reference letter from an IAF Member Organisation
Applications will open on December 1, 2022.
Engagement with Mentors
The 2023 IAF Launchpad Mentorship Programme will run for a period of approximately 6 months. The programme will begin in February 2023 and end in August 2023. A minimum commitment of 6 hours of contact with your mentor during this 6-month period is encouraged. These can be at a time and duration that suits both parties.
Most communication and participation in this programme will be virtual, using web-based conferencing platforms. If permitted, we will have in-person meetings, workshops, panels, etc. set-up during the IAF Spring Meetings 2023 and IAC 2023 in Baku.
The IAF Launchpad Mentorship Programme intends to meet the Diversity and Inclusion policies of the IAF.
Key Dates
Mentee Applications Open: December 1, 2022
Mentee Applications Close: January 6, 2023
Mentee Selections Announced: early February 2023
2023 Programme Period: February – August 2023
What should I expect if I am selected as a Mentee?
If you are selected as a Mentee, you will be matched with a mentor and notified of your match by email. We consider the Mentee to be the "driver" of the relationship. Therefore, you are required to make initial contact with your Mentor. An introductory meeting will be held to allow all new Mentees and Mentors to meet virtually. Mentees and Mentors will continue to manage their relationships for the remainder of the 6-month period. Throughout the programme, we will organise professional development seminars. We expect you to do your best to attend these as it will enhance your experience in the programme. After this programme ends, the Mentee and Mentor may elect to finalise their mentoring relationship or extend it beyond this formal period. Once the programme has finished, Mentees and Mentors will be asked to provide feedback on the programme by completing an evaluation form.
At this time, we hope to include some in person events at the IAF 2023 Spring Meetings and IAC 2023. More info to come.
Selection Committee
To be announced.
Programme Coordinators
Programme Advisor
Contact Us
For any further information or questions, please email launchpad@iafastro.org